LLADRO Porcelain CHINESE ZODIAC THE HORSE (01006827)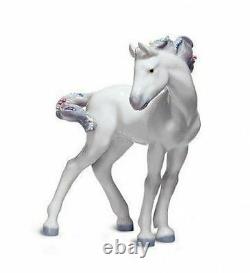 Those born under this sign take on the vitality of the Horse. It is dynamic, open, expressive and elegant by nature. It also has an intrepid and uninhibited spirit leading it into adventures regardless of the risks. The Horse is sociable, extrovert and prefers activity to meditation. Under this sign are those born between following dates (dd/mm/yy): 30/1/1930-16/2/1931, 15/2/1942-4/2/1943, 3/2/1954-23/1/1955, 21/1/1966-8/2/1967, 7/2/1978-27/1/1979, 27/1/1990-14/2/1991, 12/2/2002-31/1/2003. This Lladro figurine is brand new and in perfect condition. It is made in Spain and comes in the original Lladro Box.
The item is of perfect quality, (we do not sell seconds). We are an authorised Lladro stockist and are one of the largest distributors in the United Kingdom.
All prices are quoted in Pounds sterling. Please note that Lladro items are dispatched within 10-14 days of placing your order.
If there is a delay, we will contact you as soon as possible. We reserve the right to make corrections on any item.
We will not process any orders where an error has occurred. The item "LLADRO Porcelain CHINESE ZODIAC THE HORSE (01006827)" is in sale since Friday, January 30, 2015.
This item is in the category "Pottery, Porcelain & Glass\Porcelain/China\Lladro/ Nao\Figures". The seller is "giftwareseller" and is located in London. This item can be shipped worldwide.
Manufacturer/ Type: Lladró
Boxed/ Unboxed: Boxed
Material: Porcelain/ China
Date: 1980-Now
UPC: 737859068270
Condition: New
CustomTag_0: New
Use: Decorative
Product Type: Figurines

---